MMA Super Coach: Erik Paulson
Mixed Martial Arts /
Submission Grappling
1-Day Seminar
Saturday October 13th  |  11:30AM – 4:30PM
Erik Paulson will be conducting a One-Day Seminar at Progressive Martial Arts in Queens, NY this October 13th. Erik is world renown for his grappling and is considered a leading authority in MMA.
The seminar will be divided into two sessions.

11:30AM – 1:30PM • STX KICKBOXING • 
This hybrid striking system developed by Erik Paulson focuses on explosive techniques in Boxing, Panatukan, Jun Fan/JKD Kickboxing, Savate, and MuayThai (Thai & Dutch methods). In STX Kickboxing, students will learn a blend of elbows, punches, and knees from each art. These skills are easily translated in MMA, kickboxing, and self-defense situations. From glove drills, focus mitts, Thai-pads, and sparring, students will have a variety of striking options.
$65 One Session / $115 Both Sessions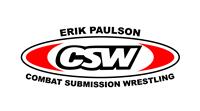 2:30PM – 4:30PM • CSW • NO-GI SUBMISSION GRAPPLING • 
Erik's system (CSW) blends Judo, Freestyle Wrestling, and Greco-Roman Wrestling with techniques and submissions from Shootwrestling, Brazilian Jiu-Jitsu, Sambo, and Catchascatchcan. CSW trains the individual to strike, clinch, takedown, and submit on the ground in either a sport, mixed martial art, or self-defense environment. It is laden with painful submission holds and a plethora of devastating leg locks. The evolved style provides the perfect compliment to Brazilian Jiu-Jitsu.
$65 One Session / $115 Both Sessions
Location:
Progressive Martial Arts
175-25 Horace Harding Expy, Queens, NY 11365
Fee:  
MORNING SESSION (STX KICKBOXING) ….$65
AFTERNOON SESSION (CSW NO-GI GRAPPLING) ….$65
BOTH SESSIONS ….ONLY $115
REGISTER TODAY
718-461-0700
Recommended Equipment: 
For STX: Boxing Gloves Bag Gloves, Shin Guards, Mouthpiece